Super Special #2: Free Upgrade to HD!
FEBRUARY 8TH, 2017

Free upgrade to High Definition in all Classic Photo Books! Hurry, place your order before 9PM (AEDT) Feb 14 to take advantage of this exclusive offer!
STEP ONE
Create any "Classic Photo Book" in our desktop Editor.
STEP TWO
Upgrade your Photo Book to HD in the Editor when prompted or alternatively, you can upgrade to HD in the Shopping Cart when placing your order.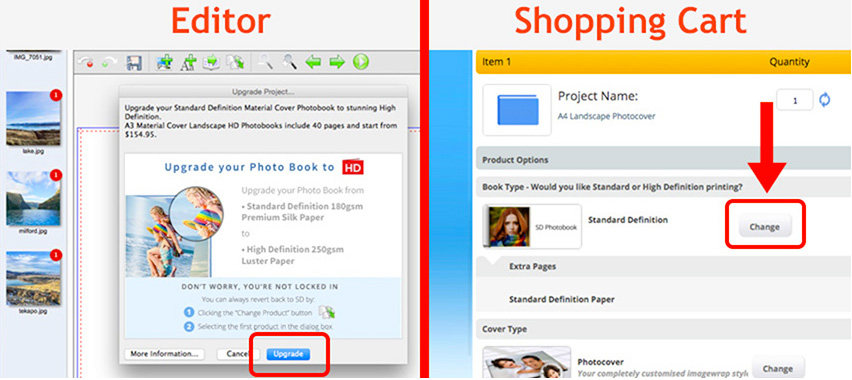 STEP THREE
To receive your upgrade to HD printing, you must apply the voucher code FEBUPGRADE on the 'Payment' page in the Shopping Cart.
The Payment page is the third page of the Shopping Cart. You must complete the 'My Cart' and 'Shopping/Billing' pages first.
On the Payment page you will see a 'Voucher Code' field. Enter the code (FEBUPGRADE) in the field and click Redeem. This will deduct your total to the base price of a Standard Definition Photo Book. Any additional pages will be charged at the selected HD amount.

STEP FOUR
Once the Voucher Code has been applied you can click Confirm Order to complete your order.
Then just ensure your project has been uploaded to our server to finalise your order.
Please note: This offer covers the base price of a Classic Photo Book, which will be charged at the SD basic price. Extra pages will be charged at the normal HD paper type rate.
Offer ends: 14 February, 2017, 9PM AEDT
If you have any problems, our Customer Service team are happy to help. Just call 1300 553 448.