albumworks Gold Member feature - Dale Holmes
AUGUST 28TH, 2015
Last month we launched our albumworks Rewards Club here at albumworks. Recently we got in contact with Dale Holmes, one of our Gold members to talk about her Photo Books and the wonderful experiences she has had on her travels.
Along with John (who she playfully calls her photographic director!), they travel the globe capturing incredible, real-life photos that make you feel like you are really there experiencing the moment. With 97 Photo Books made to date, Dale and John are planning their next trip to the inner Hebrides in the coming months. Not long to go before they pass their 100th book!
Take a peek at her Photo Book work below and read about her story with albumworks. She was even kind enough to share some of her tips for creating the perfect Photo Book!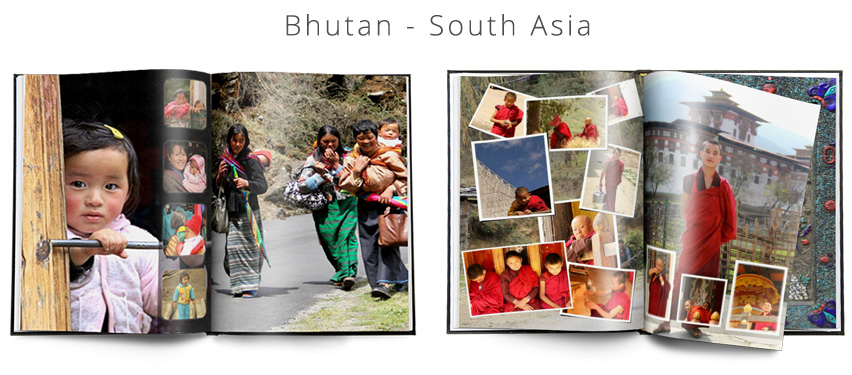 In 2006 I was looking for a way to display my photo diaries of the amazing travel I had undertaken with John, and talking to a lady about scrapbooking she advised that she had heard of a company Albumprinter, who were new and printing photo books in Australia. This was my Goal – found!!
The synergy of the universe lead me to Andrew and the team at Albumprinter (now known as albumworks) who were more than willing to talk and guide me through my introduction to the wonderful experience I have had for the last 9 years, in printing memories for our friends, relations and also our own enjoyment on our reminiscences of excursions together.
I originally started with a test book on a trip to Dubai – good pictures with white backing pages and basic borders. Looking back, my lay out and photos were extremely basic compared to what I can do today, thanks also to the innovation of the software. This first book was exceptionally produced and the service, which impressed me most, started my journey.
The software and ease of design has always been amazingly simple and a bonus was when the maximum pages per book were increased – it made the continuity of the photo diaries more complete and less books per trip (one month trip into 1 book – not 4 books!)
After seeing my books people have requested that I do a book for them using their pictures, but I love to introduce them to the experience of reliving the memories of what their holiday or special time was and therefore developing their own unique way of expressing their thoughts through the albumworks Editor with its many and varied software options.
As a very amateur photographer, I have been privileged to be able to go to some of the more interesting places on the planet – and still planning to visit more! I have been able (with my camera ready) to capture truly remarkable shots and then display them with perfect reproduction in my books .
During the years, I have had some issues with the computer/internet (because of my inexperience as I am getting on in years) and in all cases just one call to the remarkable team at albumworks and my issue has been solved in no time – with the informed, on time delivery of the next book, which I still love to anticipate opening.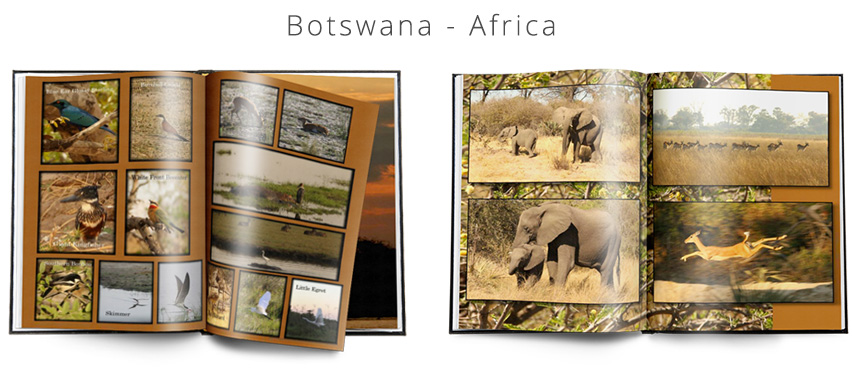 My book-making process:
When we're away and planning, we see and know then the photos that will be the front and back page. During the trip "What are you taking that picture for?", is asked a lot as I only use my pics even for the backgrounds (sometimes faded out).
I usually create a "The Best Of" folder after reviewing all of the shots – then I do the book in the time frame process as it makes it easier to keep track of where you are. I also take photos of the names of places etc, which helps to remember.
Recently we went to Myanmar and because of albumwork's wonderful ability to send a link of the book and share an online preview, our friends in the UK were most jealous of this "link sharing ability" and also the options to do different masks and shapes for the layout.
Over the past years John and I have been very fortunate in our health and ability to travel, and it is with some anticipation that our friends ask for "The Tour" in photo book form when we return – to places that they would not or could not consider to travel to. It also makes for fabulous memories on a cold and windy day at home.
After a trip it is imperative that I sort the photos and start on production of the Book – prior to the final planning of the next trip. This keeps the whole experience top of mind and reinforces the wonderful times and people we have been privileged to encounter.
When I started in 2006 the options for Photo Books were 20 double sided pages with Faux leather or material covers – which was wonderful, since then my books have continued in this form with a couple of my special books with photo covers etc, the options are now endless.
Many of our friends and acquaintances are confirmed followers of the albumworks process, and it's great to see that Andrew and his team at albumworks have stayed true to their commitment to us all.
My "photographic director" John and I have been a team since 2001 and we are thankful that we are able to live the life we have – and to then share our experiences with others.